EDUCATION NEEDS TEACHING ASSISTANTS – CAMPAIGN

WILL  YOU JOIN THE GMB CAMPAIGN AND STAND UP FOR TEACHING ASSISTANTS?
Campaign Background
From 2013, GMB Birmingham & West Midlands ran a campaign around school support staff, in response to reports in the press that the Treasury and Department of Education had been in talks to 'phase out' the role of Teaching Assistants. This added to comments which were made Michael Gove (the then Secretary of State for Education) about Teaching Assistants being a 'mums army' and having a negative impact of pupils.
The campaign involved petitions, postcards to MP's and an Early Day Motion for MP's to sign up to (45 did)
Michael Gove was moved from his role at the end of July 2014. We can't take sole credit for this, but our campaign certainly helped highlight the issues and will have contributed to the decision.
Where are we now?
There is now another wave of attacks facing Teaching Assistants. Gove's successor Nicky Morgan, stated in the Observer that whilst his combative style alienated teachers, she fully supports his key policies.
The Department for Education has issued a new code of practice on Special Educational Needs (SEN). The code sets out responsibilities for schools to support children with special education needs. The previous code established ' Statements of special educational needs. These statements could be specific to the number of hours for support from a Teaching Assistant or more general areas of support and were legal documents.
The new code introduces Education, Health and care plans (EHCP). Over a 3 year period these will replace statements. In addition the new code of practice pushes schools away from one-to-one Teaching Assistant support. Instead, schools are supposed to rely on 'high quality teaching' and that 'special education provision… is compromised by anything less'
In reality, this means that teachers are expected to cope without any support!
These changes will put significant pressure on schools to reduce the number of Teaching Assitants and we are already seeing a number of redundancies arising as a result.
As a Trade Union representing School Support Staff, GMB has to respond to this latest attack. This is why we are re launching our TA campaign and has been rebranded:
EDUCATION NEEDS TEACHING ASSISTANTS
The first step in our campaign is to advise you of the Teaching Assistant pledge. Large versions of this pledge have been supplied to each Local Authority branch which has contributed to the campaign fund.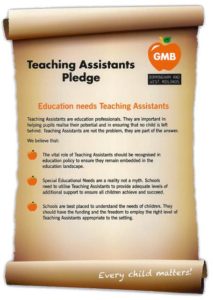 We will be contacting all Headteachers with an explanation asking for support and a visit to the school where we will be raising awareness of the pledge. Campaign packs including petitions will be available at each visit and this will start from September 2015. However, this information is now available below.
If you wish to receive a hard copy or want to know more then please contact the branch office on 0121 569 5992 to speak to our senior education representative Julia Sear.
A guide to what's included in the pack
This is the local petition we ask you get filled in.
Information on what happened to launch the campaign
Teachers could now now be asked to do these tasks as per an alternative to the agreement
This is to ask your MP to show support to TA's
Government intend to cancel your subscription from your wages, transfer now!