February is UK LGBT+ history month.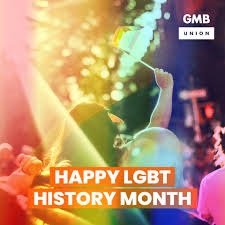 GMB campaigns and fights for better rights, pay and conditions for all LGBT+ workers.
We strive for equality to be the forefront of everything we do. Making work and society a better, safer place for everyone is part of our core values.
For LGBT+ History Month 2021 we're putting on four online events for our LGBT+ members, friends and allies to celebrate our history: who we are, what we need in the world of work and where we want to be in the future.
The events aim to celebrate and recognise the diversity of LGBT+ people and life. We hope you'll register and join us.
10 February 6:30pm LGBT+ at Work: Through the Decades
19 February 6:00pm LGBT+ Black Lives Matter
22 February 6:00pm Trans and Non-binary Inclusion: the Workplace and Beyond
24 February 6:30pm LGBT+ Mental Health and Covid-19
Our LGBT+ history month events are organised by LGBT+ GMB activists and the main audience is LGBT+ GMB members.
We also welcome friends and allies, remembering that LGBT+ voices will be prioritised. GMB is committed to organising activities at which everyone can participate in an inclusive, respectful, and safe environment.
We have zero tolerance for any type of harassment, including sexual harassment and transphobia. Aggressive, offensive, intimidating, disrespectful or unacceptable behaviour or comments will not be tolerated.
This supports the commitment set out in our rulebook to promote equality for all and to eliminate all forms of harassment.
Posted: 1st February 2021