GMB Birmingham & West Midlands region has fully supported the development of a women's group to give women a greater voice in how the region and the union moves forward. You don't need to be delegated by your Branch to take part, just get in touch and come along.
GMB has a long tradition of unionising women workers and fights for equal rights for our female members. As the union have a rapidly increasing female membership it is right that we champion the work women do in the workplace.
GMB is actively working to increase women's representation at all levels of our union for example, working to enable (predominantly female) support staff to take on organising roles – and within the workplace.
GMB campaigns to challenge cuts which unfairly affect women workers in a range of ways e.g., forcing changes to working hours disproportionately impacts women with children as is it more difficult and expensive to arrange childcare.
For more information about GMB BOSS: Birmingham Organised Sisters Society or to get involved, head over to our facebook page, contact Sarah/Annette at branch office on 0121 569 5991 or branch@gmbs85sandwell.org.uk. Alternatively please contact Rebecca Mitchell, Regional Equality Officer on 0121 550 4888
Current Campaigns
White Ribbon Campaign
GMB@WORK-white ribbon
We are championing the White Ribbon campaign, inspired by The White Ribbon Pledge lead by men who campaign to stop domestic violence against women. Women might be the primary victims of this type of assault, but there is no reason why men can't take a share of the responsibility in putting an end to it and clearly, many are committed to doing so.
Domestic violence statistics show that 70% of incidents result in injury and that on average, two women in England and Wales are killed by a partner every week. But what does wearing a white ribbon really mean? It says loud and clear that you will never condone, take part in or remain silent about domestic abuse against women.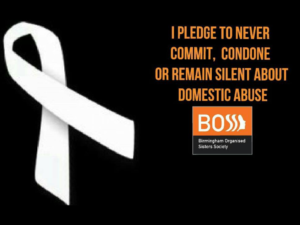 Our campaign highlights the help that is available not just to the victims but also the help available to the people that commit acts of violence who want to change their pattern of behaviour.
Domestic violence can take many forms, including sexual, emotional, and/or financial, in addition to physically violent abuse. Every act of violence is wrong and everyone, whether male or female, has the right to a life free of violence.
Along with support from Port Vale FC we are raising much needed awareness and money for local domestic abuse charities, Statistics show that during the 2010 world cup, reported incidents of domestic violence rose by 25% following England FC matches. We do not suggest that sport, in particular football causes domestic violence but it is certainly a contributing factor.
If you are facing violence in any form you do not have to put up with it. There is support available. Contact the services below for free confidential advice. They can also direct you to local support services.
National Contacts
National Domestic Violence Helpline – 0808 2000 247
Women's Aid – 0808 2000 247
Everyman Project – Helpline for men who are violent – 0207 263 8884
Doli Project – Forced Marriage – 0845 658 1057
Honour Network – National Forced Marriage & Honour Based violence helpline 0800 5999 247
Victim Support – 0300 303 1977               – Mens' helpline – 0800 328 3623
ManKind Initiative – Help and support for male victims of domestic violence – www.mankind.org.uk
Broken Rainbow – Men and Women in gay, bisexual and transgender relationships – 0300 999 5248
Remember – in an emergency call the police by dialling 999 or in a non-emergency dial 101.
Local Contacts
Sandwell Women's Aid – services and support to men and women experiencing domestic abuse – 0121 552 6448
Women's Aid have created The Hideout, a safe web page to help children and young people understand & how to take positive action if they are experiencing domestic abuse.
Sandwell Council have a dedicated webpage for anyone who is experiencing abuse and needs help.
 28th April 2015
Members of the womens group are proud to announce that they have made their first donation from money raised via the selling of white ribbons.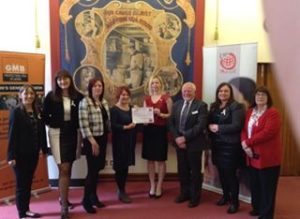 The donation was presented to staff from Julia House, a refuge for victims of Domestic Abuse based in Stoke. The group felt it right for their first presentation to be made in the area where the campaign was launched, when ribbons were sold at Port Vale FC.
The money, £1300.00, will be used to buy garden furniture and childrens' toys for the refuge and was very gratefully received, with one staff member saying it was the largest single donation they have ever received.
The work they do, as well as so many other refuges in the West Midlands is inspiring and GMB BOSS are proud to support them.
If you are aware of a Domestic Violence service in your area and would like the group to support them please contact 0121 550 4888.