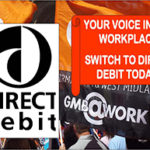 Changing your membership to Direct Debit couldn't be easier, by following these easy steps your GMB membership will be protected from the attacks outlined in the Trade Union Bill.
Your GMB membership gives you essential cover at work. And in these uncertain times you can't afford to lose that protection.
Direct Debits are easier for you to manage; you control your own finances and have options as to when during the month you would like your Union contributions to be deducted.
How to switch to Direct Debit
There are various ways to switch, here's how:
Online
Make the switch online today by registering your details with us, if you haven't already done so. Then go to http://www.gmb.org.uk/join/login
Step_by_Step_Guide_to_Transfer_to_direct_debit_online
Fill in a Switch to Direct Debit Form
You can download the following form below fill it in and send back to the following address for the attention of the membership department.
Telephone
Contact the Halesowen Regional Office on 0121 550 4888 with your bank details to hand and ask them to switch your membership.
It's that easy, do it today!
Posted: 21st March 2016