Christmas can be a lonely time for many in our community. 
GMB Sandwell branch were humbled to support a local community Christmas event yesterday (Monday 16th December2019) Nickola, GMB Sandwell Adult Social Care workplace rep tells us more about why this event is so important.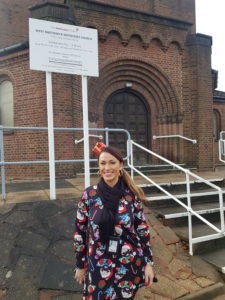 Working in Adult Social Care I find a lot of adults very lonely, Christmas time is a difficult time of year as the adults will reminisce on previous Christmases and they also mourn for the loss of their family member, friend or spouse. In some case families have drifted apart and no longer communicate. Early Autumn members of West Smethwick Enterprise and I had a discussion to see what we could do to combat the issue of loneliness as we are all aware of the struggles people face at Christmas time.  Adults and children posting on Social Media about presents they have received can make those families struggling to keep their homes warm feel inadequate and a failure to their children, and can often lead to families getting into large amounts of debt. 
We also had a discussion about the adults who are homeless which is also a very difficult time due to the adverse weather and dark mornings & nights.
Smethwick has always been very community orientated and has a lot to offer, so we decided we wanted to bring everyone together for Christmas. Collectively Myself, Adam Cooper, Laura Richmond and many others, scoped the community for support and donations towards this event, it was heartwarming to know that although we often hear negative stories in the press, the community were very supportive.
So it was set, we decided that we would hold a community Christmas lunch on Monday 16th December.

The room was provided by West Smethwick Methodist Church, donations of gifts were donated by various shops around Smethwick. Staff from The Job Centre Plus and Lloyds Bank volunteered to support on the day, with the serving of food, making drinks, clearing up and ensuring that everyone was having a good time. The Tea Pot Café in Smethwick volunteered their services to cook all the food for the people who were in attendance.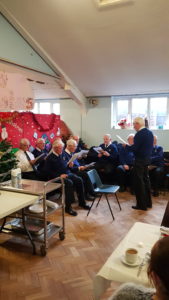 The Warley Men's choir also volunteered their services, singing traditional carols which was thoroughly enjoyed by all. Food and drink was also available to the homeless, no food went to waste as all left over food was distributed to the homeless people who were unable to attend.
It was so warming to see the children and lonely adults enjoying each other's company which in turn brought tears of happiness as it had been many years since an elderly adult had seen an excited child at Christmas time.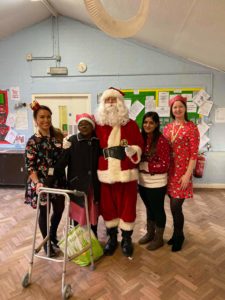 On behalf of all the volunteers, I would like to say a warm felt thank you to GMB Sandwell Branch for the 
generous donation of £500.00 which purchased all the food and drink, crackers, napkins, and even helped us arrange a visit from Father Christmas. The day was a complete success and the community have requested that we consider a community meal again at Easter.
Christmas is not always about the biggest present under the tree, it is about giving back and supporting those less fortunate, our neighbours who need local community spirit the most.
Posted: 17th December 2019