GMB annual congress took place in Brighton between 3rd – 6th June 2018.
On Sunday 3rd June sectional conferences were held, with motions and debates focusing on the three sectors within GMB structure, Public Services, Commercial and Manufacturing.
These conferences are held every other year prior to the start of annual congress and decisions made drive GMB strategy. However it has been recognised that these conferences need to take place more often and in his address to congress Tim Roache, GMB General Secretary advised that these will now take place yearly. With the ever changing face of work and with our members facing attacks on terms and conditions and cuts to their workplaces this was a very welcomed commitment.
Elections were also held at congress for National President and Public Services President, roles that Mary Turner had held until her death.
We are very pleased that June Minnery from GMB Scotland was elected as GMB Public Services President at the sectional conference and Barbara Plant from Southern Region was elected as National President, More about Barbara can be read on GMB website.
On Monday 4th through to Wednesday 6th June annual congress took place. The first day starting with a tribute to Mary Turner and her grandaughter Lisa accepted Mary's gold badge before giving an emotional speech to which rightly so she received a standing ovation. This year was very different to previous years and everyone missed Mary keeping delegates in check and offering her support. However Malcolm Sage acting President did a brilliant job, ensuring that congress ran smoothly.
Many motions were debated throughout the week and a copy of the agenda along with documents relating to congress are available for members to read online or at branch office.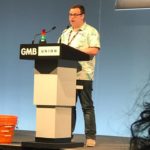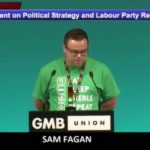 Our delegate Sam Fagan, spoke passionately on motions relating to Political restrictions and on training availability. we are pleased that they were both passed and look forward to developments taking place.
We were also extremely proud to see Sarah James receive the Eleanor Marx award. Eleanor Marx co-founded GMB Union in 1889 in Beckton, East London at the age of 34 and every year GMB  awards a member the award to highlight a momentous achievement in the past year.
Sarah's region has described her as 'Birmingham's inspirational woman' for the crucial role she has played in cha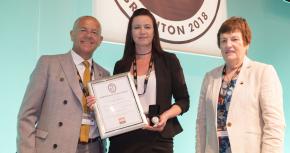 mpioning women's rights and encouraging and inspiring new women activists to become active.
Sarah's passion and commitment has played a big part in the launch and success of the Birmingham Organised Sisters Society (BOSS) since 2014. From her involvement in campaigns to end period poverty, raise awareness of domestic violence and mental health issues, Sarah has worked tirelessly to promote equality and inclusion. If you want to find out more about GMB self organised groups please contact Sarah at branch office.
For more information and for videos and photographs from congress please visit GMB website, facebook page or twitter account and search the hashtag #GMB18
Posted: 11th June 2018