More than half of school staff experience shocking violence at work – with more than 16% suffering attacks every week.
A new report released this week highlights the appalling treatment our members face in the workplace.
Karen Leonard, GMB National Officer said:
"No-one should be physically threatened at work. Violence from parents in particular is completely inexcusable. School support staff love their jobs, love the kids and want to carry on doing their best for the children.
All they ask is their school backs them up when it does happen – and takes the common-sense steps needed to protect them. Throughout this year we have been asking schools to sign up to GMB's code of conduct to ensure attacks on members, when they happen, are dealt with properly."
Sam Fagan GMB Sandwell Education Convenor said: "After speaking with Sandwell Council, we are pleased that Councillors support our call and contacted all schools and academies in Sandwell prior to the end of the Summer term, encouraging them to sign up to these demands. As the new school year starts, we look forward to further discussions to ensure our members are safe at work."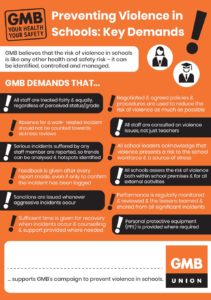 Full news article can be read on GMB Website
Posted: 11th September 2018