The inaugural national conference took place at the Liner Hotel on 6th & 7th November 2017.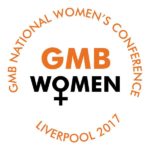 The conference started with a welcome from Ann Lafferty, National Officer and a video of 2 parts. It started in memory of Mary Turner and the 2nd part was a video montage of photographs of GMB women throughout the Union at different events.
An icebreaker session was held where delegates were asked to speak to people they may not have met before about their own inspirational woman, what was great to see was a great mixture of people saying other women in the union and their own mothers and grandmothers.
A brilliant session was delivered around pregnancy/maternity discrimination – what to expect at work and legal standards. One delegate gave her story of treatment she faced when pregnant and working for a care agency. Following this a workshop around Domestic Abuse was delivered, focusing on why it is a Trade Union issue. Delegates were asked to think about what Domestic Abuse is and  some very good points and comments were fedback from the floor. Real life stories and legal requirements on employers were discussed and delegates were then asked to feedback on what we can do in the workplace, again this delivered some very good points.
A workshop was held on GMB Structures and how members feed into the structure, some fantastic discussions and questions came from the floor around congress, self organised groups, rule book etc and making sure delegates were all listening a quiz was held on the second day
We were joined by Tim Roache, GMB General Secretary on Monday evening for a meal and entertainment, where he spoke about this being the first, but not last conference and fittingly dedicated this one to Mary.
The second day started with the launch of the GMB Women's charter and sessions around organising women, what women want and how to get it, working in groups discussions were held and feedback about what GMB need to make women want to get involved, from this ideas were shared about how to make the Union more accessible for women. Other issues women face at work were discussed around the menopause and how we can increase membership but get women active, things such as meetings and training in working hours – part time courses – childcare needs etc
The conference was closed by Lisa Johnson, GMB's most senior female who gave a summary of the conference and talked about what we hope to achieve or start to work on over the next 12 months, making equality in the Union mainstream.
Sarah James, Branch Equality Officer & National Equality Forum Women's Lead said afterwards "It was an amazing conference and to see so many enthusiastic female activists is really encouraging. Now we need to ensure that ALL women in the GMB are listened to and develop ways in which the GMB can work around them, as well as the more traditional ways in which we engage with members and activists"
Women's Charter launch at the National Women's Conference 2017, Liverpool
www.gmb.org.uk/womens-charter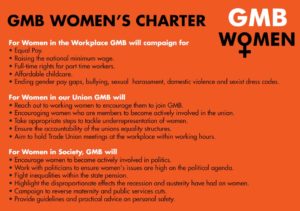 Posted: 8th November 2017