Bright Futures Day Care Centre provides a vital service to the Hateley Heath community and working parents, but is threatened with closure with 12 staff facing redundancy.
Management have advised that this is due to a deficit of £160k but acknowledge this is due to previous mismanagement.
GMB & Unison representatives in Sandwell, along with local parents and community activists are calling for the council to intervene, so that the centre can continue with the reversal of detrimental policy decisions and a clean slate to provide a realistic service for working parents for children 0-5 years old.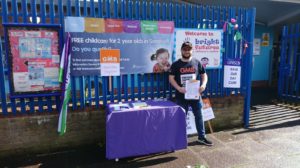 Sam Fagan, GMB Education Convenor said "We are keen to work with Sandwell Council and School Governors to save this vital provision . It is important for future attainment of the children and Ofsted rating of the school. The centre not only provides educational value for our young people but also offers support to enable parents to go out to work"
We have already collected many signatures to the petition and will be outside the centre again on Thursday 14th September 2017, between 2:45pm & 3:45pm. Come and find out more about the campaign and sign the petition. For more details please contact branch office on 0121 569 5990 or call Sam on 07584619293.
Location: School gates Hateley Heath Primary School, Huntingdon Road West BromwichB71 2RP
Posted: 12th September 2017