Officers from GMB Sandwell were at our regional office yesterday (28th April 2016) to commemorate International Workers Memorial day.
Our equality officer Sarah and young members officer Sam attended a workshop on Health & Safety and our branch secretary Darren was in attendance at GMB regional council.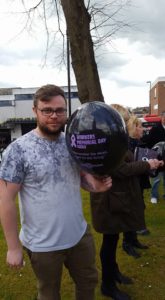 They joined activists and officers at St Johns Church grounds across from our regional office in Halesowen for a short memorial service, where wreaths were laid. Following speeches from our Regional Secretary Joe Morgan, and Pat McFadden MP, 142 balloons were released to honour those who have died at work in the past 12 months.
The ceremony was also filmed and streamed live on our branch facebook page.
However these are only recorded deaths, Joe Morgan  said "In 2015, the number of fatal injuries in the workplace was 142, this is still 142 too many. These figures exclude 'Road Traffic Accidents', 'Workers travelling by air or sea', 'Armed Forces' and also 'suicide' so realistically this figure is a lot higher.
Unionised workplaces are safer, yet the government is trying to stop unions protecting the health and safety of their members by restricting the right of health and safety representatives.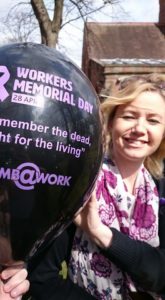 Over the last five years the government have driven down the budget for the Health and Safety Executive. Labelling health and safety inspections unnecessary red tape and removing protection from millions of self-employed workers.
We commemorate International Workers Memorial Day to highlight and raise awareness."
Posted: 29th April 2016