Agreement has been reached between the National Employers and the NJC Trade Union Side on rates of pay applicable from 1 April 2018 and 1 April 2019.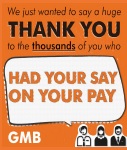 The pay award will now be implemented and back dated to 1st April, 2018.
If you took part in the GMB vote and the new pay offer isn't implemented please contact your local GMB branch/regional office as soon as possible.
Full details of the offer can be found at:
http://www.gmb.org.uk/campaigns/local-government-pay/overview
Posted: 12th April 2018