Happy New Year,
We hope you have all had a Merry Christmas and a peaceful New Year.
Officers from GMB Sandwell will soon be visiting Local Government and school workplaces to discuss the pay offer received in December 2017.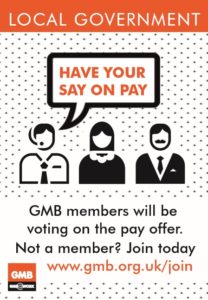 These visits will include a workplace ballot being conducted, therefore it is vital that your details are up to date to ensure that your voice is heard.
If you have changed workplaces, got married or moved address please contact branch office on 0121 569 5990 or email branch@gmbs85sandwell.org.uk to ensure that your membership record is correct.
If you are not yet a member you can join online , by speaking to your local GMB workplace representative or by contacting branch office.
Posted: 3rd January 2018