Mental Health Awareness week takes place between 14th & 20th May 2018.
Throughout Mental Health Awareness Week, we will be visiting workplaces throughout the borough. This year the focus is on stress and our officers are not only raising awareness, but will be able to provide a confidential & safe environment to discuss any issues affecting your work.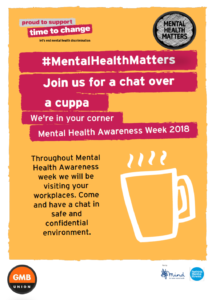 Monday 14th May 2018  SERCO, Shidas Lane      5:30am – 6:30am
Monday 14th May 2018  Jack Judge House, 2nd Floor  10:00am – 12:30pm
Tuesday 15th May 2018 Oldbury Council House Ground Floor 10:00am – 12:30pm
Wednesday 16th May 2018 Providence Place Ground Floor  12:00pm – 1:30pm
Thursday 17th May 2018 Roway Lane Ground Floor  11:00am – 1:00pm
Friday 18th May 2018  Independent Living Centre  10:30am – 12:30pm
Friday 18th May 2018  Taylors Lane      2:00pm – 3:30pm
GMB is campaigning to show that mental health matters in the workplace as much as anywhere and have long fought to break the stigma of Mental Ill Health and to raise awareness. Many people are unaware that they could be protected via the Equality Act 2010 under disability.
1 in 6 people experience a mental health issue at work – and due to increased pressures in the work place and cuts to funding for mental health services the challenges have become more acute. We want to increase understanding of mental health and encourage employers to put into practice workplace policies to tackle stigma, provide support and improve their workers' wellbeing.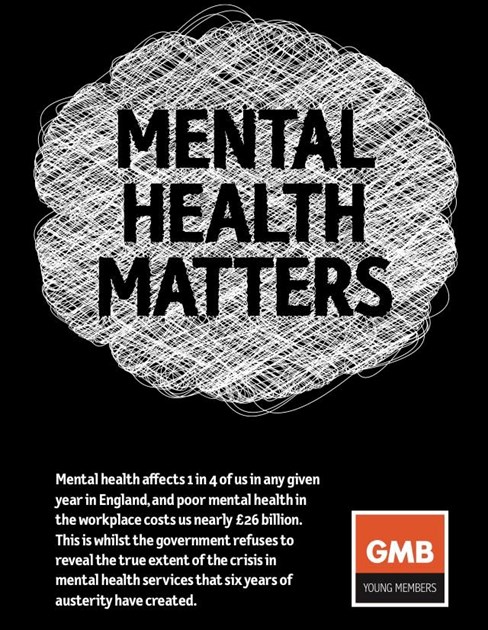 Posted: 10th May 2018