GMB Birmingham & West Midlands regional equality conference took place last weekend (Saturday 26th Nov 2016) and Sarah and Sam were there to represent S85 branch.
There were passionate speeches and our branch motion calling for GMB to campaign to make domestic abuse workplace policies mandatory, was successfully passed to be debated at the national conference taking place in February 2017.
This year was a voting year for the Regional Equality Forum and elections were held on the day.
The forum is made up of 16 lay members leading on the individual equality strands.  The following is a list of members who were elected to sit on the Regional Equality Forum and we congratulate them all.
LGBT – Angela Gilraine & Jag Singh
Young Members – Kate Meakin & Sam Fagan
Migrant Workers – Patricia Gumbira
Disability – Pauline O'Rourke & Byron Cooke
Women's – Janice Wadrup & Sarah James
Retired Members – Brian Adams & Margi Clarke
BME – Yvonne Thomas & Warinder Juss
Elliot Downing & Tammy Willetts
Chair – Sarah James
Vice Chair – Yvonne Thomas
The REF will be establishing regional networks for under represented groups, if you would like to become more involved or find out more about the equality agenda within the GMB then please contact Sarah James or Sam Fagan at branch office,
There will be a informal meeting on 12th December and to find out more please contact Rebecca Mitchell on 0121 550 4888.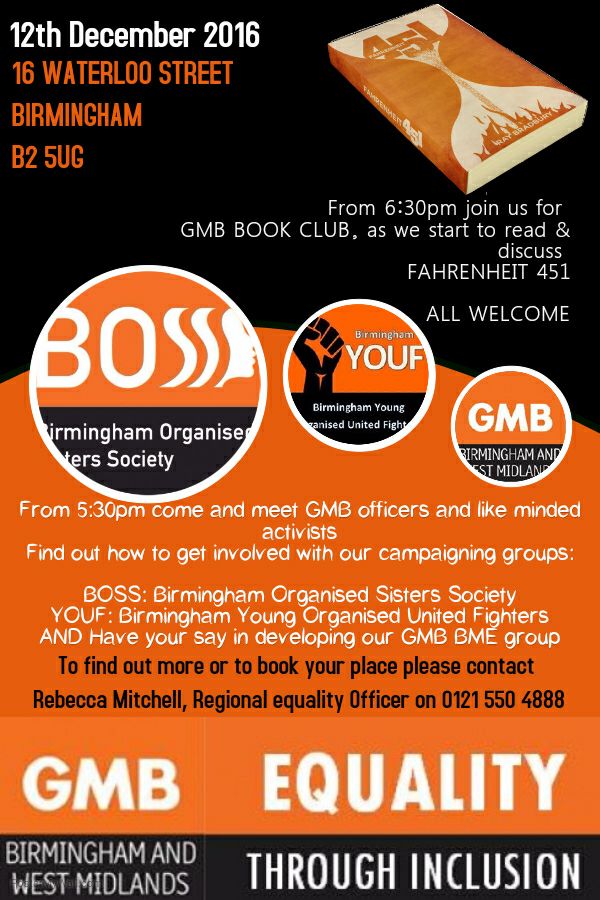 Posted: 28th November 2016