Following a meeting held on Monday 12th October of the Rowley Hall Primary School Governing Board, we are pleased to announce that they have withdrawn their plans to remove and alter provisions at Rowley Owls Nursery.
Darren James, GMB S85 Sandwell Branch Secretary said "This is fantastic news for our members working at the nursery and the whole community. We welcome the decision by the Governing Board and are pleased that they have listened to the concerns and comments of parents, staff and GMB"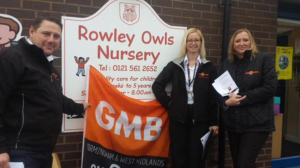 We would like to thank everyone that took time to sign and share the petition, we presented over 400 signatures against the proposals yesterday (12th Oct 2015) to the HR department of the school to consider when making their decision.
The nursery can now return their focus to offering the best care to local children and providing a valuable service to the community.
Posted: 13th October 2015