A series of 24-hour actions are taking place.
Following an initial strike action at the end of August, GMB suspended a further three strike dates in scheduled for September after Serco management requested fresh talks.
However, Serco management walked away from agreed dispute resolution meetings in September leading to GMB members removing their labour one day every week during October.
Strikes have taken place on Wednesday 6th October & Thursday 14th October, with the next set to take place on Friday 22nd October if a meeting between GMB Union, Serco and ACAS does not result in a satisfactory resolution for our members.
The Industrial Action revolves around a dispute over breaches of health & safety, bullying and pay amongst other issues.
Justine Jones, GMB Regional Organiser said:

"Our members are angry and tired, they have suffered ill treatment for years, and it's made worse by the fact they are the lowest paid refuse service in the region.

"But after everything these workers have done for all of us over the last eighteen months, they aren't going to be strung along by Serco's bullying bosses in their fight to make work better."

"Again, we have asked Sandwell Council to intervene and deal with the behaviour of their statutory service operator, this is happening on their watch, and the public should know this."
Over the past week we have also been made aware, through press releases that Sandwell Council's Leader Rajbir Singh is proposing to mount cameras on Council vehicles including bin lorries.
The council claims mounting Automatic Number Plate Recognition (ANPR) cameras on council vehicles, including bin lorries, will help prevent anti-social behaviour.
Our members are furious at this proposal, branding this nonsense and are fearing violent and aggressive incidents will increase.
Gillian Ogilvie, GMB Senior organiser said: 

"Our members have not been consulted on this move and are extremely angry.

"Let's be clear here, it puts them at risk from angry members of the public who will know where and when they'll be around to vent their frustrations.

"The council doesn't even have the jurisdiction for MOT or tax avoidance, so why are they getting involved?

"They're quick enough to dodge responsibility when it comes to the same staff in the Serco strike, so why the sudden change of policy to pick up the slack from the DVLA?"
Support the Serco Strikers
Want to get your hands on these fabulous badges and support our #SercoSandwellStrike members at the same time?
For every £5 donated to the strike fund we will send you 2 of the badges hand made by our Tamworth team. For more details or to place your order contact stuart.richards@gmb.org.uk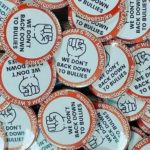 Keep up to date with the latest from the Serco Strike by following GMB Sandwell on Twitter and Facebook
Posted: 17th October 2021