The Chainmakers festival, celebrating an historic strike by Women Chainmakers returns to Cradley Heath on Sunday 12th July 2015.
In 1910 the women chainmakers of Cradley Heath won a battle to establish the right to a fair wage following a 10 week strike. This landmark victory changed the lives of thousands of workers who were earning little more than 'starvation wages'. Mary Macarthur was the trade unionist who led the women chain makers in their fight for better pay. In reference to female earnings, Macarthur commented that "women are unorganised because they are badly paid, and poorly paid because they are unorganised"
Cradley Heath, the iconic heart of the famous struggle where the Chainmakers worked and lived – and fought their successful ten week dispute to secure a minimum wage for their sector will host the family friendly street festival involving market stalls, fun fair rides, speeches, street theatre, music and debate, the festival promises to be a hugely successful and enjoyable day.
The festival will be taking place at:
Bearmore Mound Playing Fields
Cradley Heath
West Midlands
B64 6DU
The event will again include a march through Cradley Heath high street which will then arrive at the Bearmore Mound Playing Fields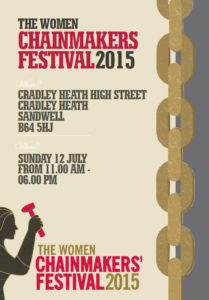 Posted: 19th March 2015