On Saturday 18 June, GMB will be joining trade unions across the country to demand action on the cost of living – a new deal for working people – and a pay rise for all workers.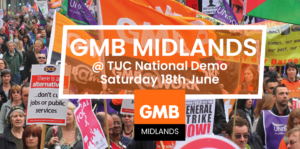 Working people have had enough.
The price of everything is going up – but key workers' wages aren't. Ministers partied while people died. And now they do nothing while living standards plummet and P&O lays off hundreds of workers on the spot.
Families across the country are bearing the brunt of the cost-of-living storm. Every worker – public and private sector – needs a real pay rise in 2022. The government needs to act now. Let's come together on 18 June to speak out.
We are organising coach spaces for GMB members who wish to join the GMB block at the rally, leaving from Nottingham (with collection in Leicester and Northampton) and Birmingham.
Spaces on these is limited, so please complete the below to express an interest to avoid disappointment.
https://www.surveymonkey.co.uk/r/GMBatTUC22
Departures TBC will be:
Nottingham: 6:00 from Theatre Square. This coach will also collect from GMB 5 Oak Spinney Park, Leicester LE3 3AW at 7:00 and Northampton Midsummer Meadow Car Park, Bedford Rd, Northampton NN1 5NG at 8:15
Birmingham: 8:00 from City Centre TK Maxx
It's time for a fair deal for working people – real help with energy bills – and a pay rise.
Posted: 10th June 2022