Join the GMB and other Unions to march against austerity.
Sunday 2nd October
Assemble : 11:30am Victoria Square,
Birmingham,B11BD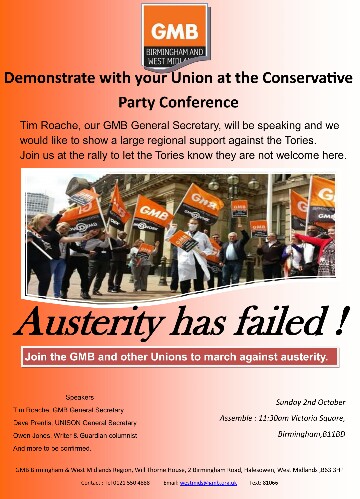 Tim Roache, our GMB General Secretary, will be speaking and we would like to show a large regional support against the Tories.
Join us at the rally to let the Tories know they are not welcome here.
Speakers
Tim Roache, GMB General Secretary
Dave Prentis, UNISON General Secretary
Owen Jones, Writer & Guardian columnist
And more to be confirmed.
Contact: GMB Birmingham & West Midlands Region, Will Thorne House, 2 Birmingham Road, Halesowen, West Midlands ,B63 3HP
Tel 0121 550 4888
Email: westmids@gmb.org.uk
Text: 81066
Posted: 29th September 2016