October is Black History Month, an annual observance in the United States, Canada, and the United Kingdom for remembrance of important people and events in history.
To honor and recognise this, GMB Birmingham and West Midlands region are holding a series of events.
BOSS: Regional womens group are honoring inspirational black women on their facebook page.
Check out the page as each day a different woman will be featured, some you may know, others possibly not – However, every one has made a difference to their communities and should not be forgotten.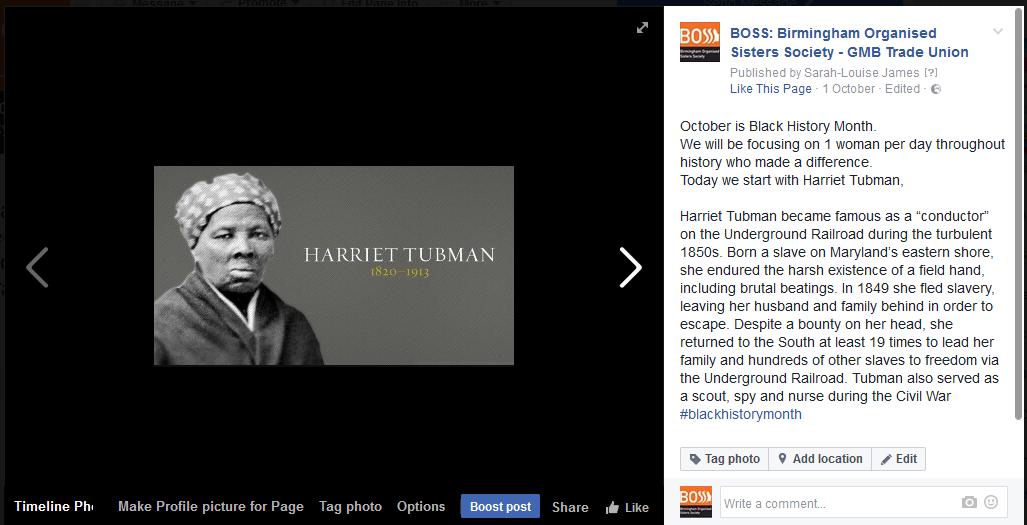 On 13th October at regional office there will be a showing of the film Selma.
Join us on Thursday 13th October from 6:30pm at Will Thorne House, 2 Birmingham Road, Halesowen B63 3HP
In 1965, an Alabama city became the battleground in the fight for suffrage. Despite violent opposition, Dr. Martin Luther King Jr. (David Oyelowo) and his followers pressed forward on an epic march from Selma to Montgomery, and their efforts culminated in President Lyndon Johnson signing the Voting Rights Act of 1965.
And on Friday 21st October there is an event taking place in West Bromwich to support a national day of events led by the charity Show Racism the Red Card.
The event labelled #unityinthecommunity will bring together inspirational speakers, including 2016 GMB Presidential equality award winner Patricia Gumbira, who won the award for fighting against racism in her workplace, along with music and dancing.
Tickets for the evening cost £5.00 each and all proceeds will be donated to the Show Racism the Red Card and can be purchased online
Posted: 5th October 2016