Don't lose your chance to vote for GMB Central Executive Council and GMB General Secretary and Treasurer.
The GMB Centrepoint Magazine will be hitting your doormats shortly. In the magazine pack you will find your official voting pack containing all the information you need to help you decide who you want to represent you on the GMB Central Executive Council(The CEC is the lay member governing body of  GMB) and to lead GMB as General Secretary and Treasurer.
If you can't find your ballot pack with the magazine contact your Regional Returning Officer, Kate Caswell on 0121 550 4888 or kate.caswell@gmb.org.uk.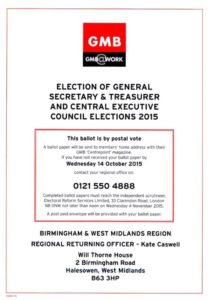 Posted: 6th October 2015