Women's Conference 2015
The Women's Conference will be held again this year in Birmingham on 5th November and include Political speakers and talks on Trade Union attacks.
The event will take place at Hotel La Tour, Birmingham, B5 5JE 9.30am — 4.30pm which is near to Moor Street Train Station.
If you wish to reserve your place please contact Deborah Watt on 0121 550 4888 ext 205 with your name and membership number.
More information will be available as and when speakers have confirmed their attendance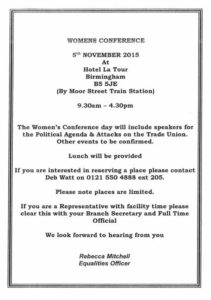 Posted: 6th October 2015