GMB has launched a new national campaign calling for an end to pay restraint and to break the public sector pay cap.
When prices are rising twice as fast as wages it's time to call the Government's 1% cap what it is – a severe cut to people's quality of living.
Many of our members in schools, local government and other public services have been forced to make ends meet as they have seen real term pay cuts for over a decade.
PETITION: It's time to end the public sector pay squeeze. We're calling on the government to finally reward our vital public servants with the decent pay they deserve. Read more and sign here: http://bit.ly/DecentPayGMB
Read GMB press release here
The GMB's new pay campaign says that enough is enough. Public sector workers deserve better. That's why we are calling on the Government to take the following steps:
• Public service workers deserve better.
• Proper funding so that everyone gets the services they need, when they need them regardless of their bank balance or postcode.
• Take politics out of public service workers' pay – let independent pay review bodies decide what's right, not politicians.
• Pay all public sector workers enough to live on, that means at least £10 an hour.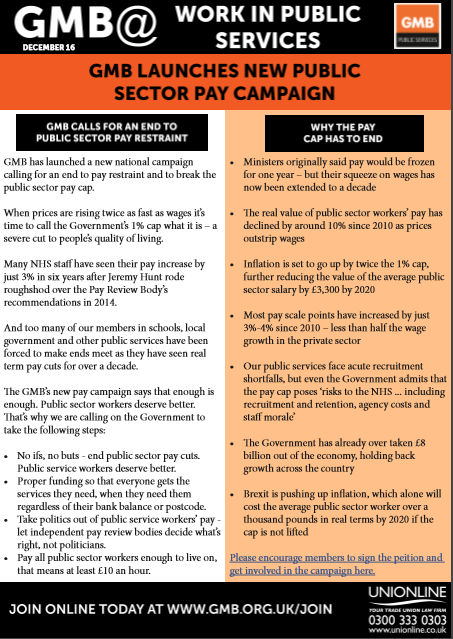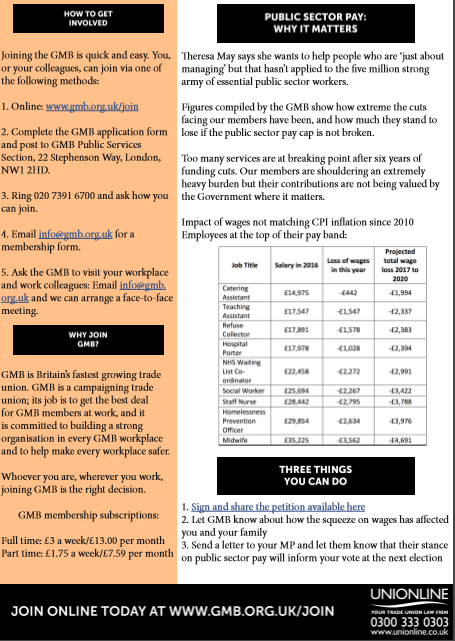 Posted: 21st December 2016