Workers at Serco Sandwell are set to strike over Health & Safety concerns and bullying in the workplace.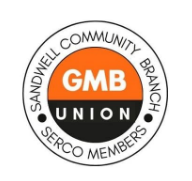 Talks have been ongoing between GMB and SERCO but after Industrial Action ballot results were announced on 23rd July 2021 they have not led to a satisfactory resolution.
Justine Jones, GMB Regional Organiser, said strike action would be a last resort.
"Should all the talks fail over the next few weeks we will be taking industrial action.
"There is some positivity but not as much as we would like. We will look to continue more frequent dialogue with the employer and are hoping talks will be successful.
"This is a last resort. What members have requested over the last couple of months has been an ongoing issue for the last few years. That's why we are taking the action we are."
The dates set for Industrial action start from 31st August 2021 and GMB members could initially take strike action for four successive Tuesdays.
For more information please contact GMB regional office on 0121 550 4888.
Posted: 11th August 2021