GMB is campaigning for pay justice across the NHS.
NHS staff have worked above and beyond during the coronavirus pandemic and we want to thank you for everything you are doing to look after us.
We are campaigning for a 15% minimum pay increase or an extra £2 an hour whichever is the greatest.
The ballot to gain the views of GMB NHS members is open until 17th September 2021.
If you haven't received your ballot paper or you want to know more about the ballot, Contact your regional contact Stuart.richards@gmb.org.uk today
Not yet a member? Join today and have your say on your pay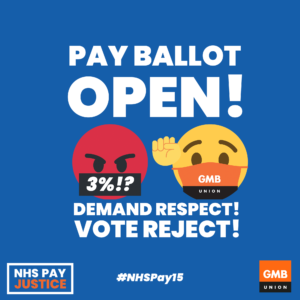 Posted: 9th August 2021