May 17th (today) has since 2004, established itself the single most important date for LGBTI communities to mobilise internationally, to highlight  the struggles faced by lesbian, gay, bisexuals, transgender and intersex people and all those who do not conform to majority sexual and gender norms.
May 17th was chosen to commemorate the World Health Organization's decision in 1990 to declassify homosexuality as a mental disorder.
GMB strives to promote equality at all levels, not just in the workplace and as such is proud to champion gender equality.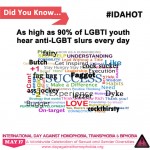 The  UK's biggest 2 day Lesbian, Gay & Bisexual and Transgender Festival will be taking place on Saturday 23 & Sunday 24 May 2015. GMB Birmingham Region will once again be apart of this annual festival which takes place in the:
Gay Village,  Hurst Street,  Birmingham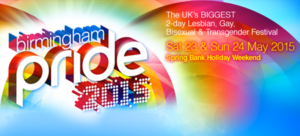 To experience this unique festival which includes a carnival parade through the city centre, please get in contact us on 0121 569 5990 or our regional office on 0121 550 4888.
The Main Pride Festival Site features the Nightingale Main Stage, dance arena, cabaret marquee, funfair, community village green, central market street, and the friendliest street party.
Birmingham Pride is a celebration of the city's diverse LGBT community which offers a warm welcome to all.
Posted: 17th May 2015