GMB National Equality Conference took place last week (27th Feb – 1st March) and was hosted by our London Region.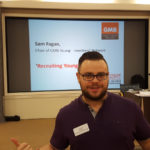 It was the first time our Young Members Officer Sam reported to conference in his role as National Young Members Network Chair and advised of the great work that the network have done over the past 12 months but also highlighted the issues and concerns that they will be campaigning on this forthcoming year, key points being Recruit/Organise/Retain, working on strategies for industrial campaigns, looking at wage discrimination and increasing awareness of Mental Health issues.
Our Equality Officer Sarah was also in attendance and it was announced that she has been appointed onto the National Equality Forum as the Womens Lead rep. Sarah advised that she is looking forward to driving forward good Domestic Abuse policies in the workplace and following the launch of the Women's Health and safety Guide at Work booklet, she is looking forward to working alongside the forum to raise awareness of women's issues in the workplace  especially around medical conditions and long term effects and discrimination that can be faced.
This year saw very deserving motions debated, however conference voted to send the motion around inequalities on the VAT added to food for working dogs to congress.  Whilst gun dog, sheep dog and racing greyhound owners do not have to pay VAT on the food for their dogs those needing assistance dogs do have to pay.
Speeches from the Birmingham & West Midlands delegation can be watched by visiting Facebook
To find out more about the conference please call branch office on 0121 569 5991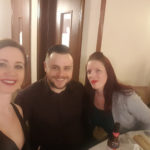 Sam and Sarah with GMB Regional Equality Officer Rebecca Mitchell

Posted: 7th March 2017