Women's History Month is an annual declared month that celebrates and honors the contributions of women in society and the important role women have had in history. It also helps us remember that there are still many battles to fight in the quest for equality.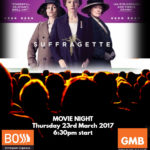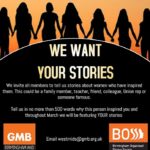 To celebrate Womens History Month 2017, our regional Womens group BOSS are asking for your stories of inspirational women and are hosting a movie night on 23rd March. To get involved please contact Sarah James, Branch Equality Officer and Regional Women's lead on 0121 569 5991 or email Rebecca Mitchell, Regional Equality Officer at Rebecca.Mitchell@gmb.org.uk
GMB has a long tradition of unionising women workers and fights for equal rights for our female members. As the union have a rapidly increasing female membership it is right that we champion the work women do in the workplace.
GMB is actively working to increase women's representation at all levels of our union for example, working to enable (predominantly female) support staff to take on organising roles – and within the workplace.
GMB campaigns to challenge cuts which unfairly affect women workers in a range of ways e.g., forcing changes to working hours disproportionately impacts women with children as is it more difficult and expensive to arrange childcare
Posted: 7th March 2017