Shared Parental Leave
New regulations on shared parental leave came into effect from 1st December 2014.
Shared Parental Leave will enable eligible mothers, fathers, partners and adopters to choose how to share time off work after their child is born or placed for adoption. This could mean that the mother or adopter shares some of the leave with her partner, perhaps returning to work for part of the time and then resuming leave at a later date.
 It is designed to give parents more flexibility in how to share the care of their child in the first year following birth or adoption. Parents will be able to share a pot of leave, and can decide to be off work at the same time and/or take it in turns to have periods of leave to look after the child.
ACAS have produced guidance, which can be found at: http://www.acas.org.uk/index.aspx?articleid=4911 
Key points, as identified, are listed below.
Employed mothers will continue to be entitled to 52 weeks of Maternity Leave and 39 weeks of statutory maternity pay or maternity allowance. 
If they choose to do so, an eligible mother can end her maternity leave early and, with her partner or the child's father, opt for Shared Parental Leave instead of Maternity Leave. If they both meet the qualifying requirements, they will need to decide how they want to divide Parental Leave and Pay entitlement.
Paid Paternity Leave of two weeks will continue to be available to fathers and a mother's or adopter's partner, however Additional Paternity Leave will be removed (Shared Parental Leave will replace it).
 Adopters will have the same rights as other parents to Shared Parental leave and pay.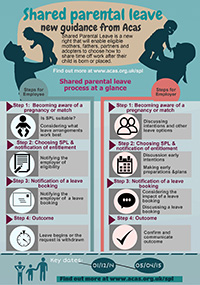 Time off for antenatal appointments.
From 1 October 2014, an expectant father or the partner (including same sex) of a pregnant woman is entitled to take time off work to accompany the woman to up to 2 of her antenatal appointments.
The time off is capped at 6 and half hours for each appointment and there is no qualifying period before employees can take up the new rights.
Posted: 11th December 2014