Pressure is building on the Government to reverse the Public Sector pay cap.
Over 760,000 jobs have been lost in the Public Sector since June 2010, but the same amount of work remains on top of shrinking pay packets. As a result local services, and those reliant on them are suffering.
The cap is not necessary, not fair and the public don't want it, 75% of voters support an end to the cap
Join GMB and sister Trade Unions, Unite and Unison from 8:30am on Friday 21st July 2017, as we lobby Local Government Employers from across the West Midlands to support our call for an end to the pay cap.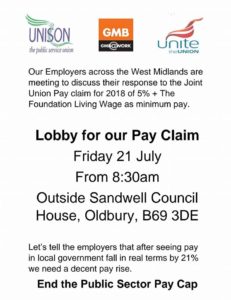 Posted: 18th July 2017