Rowley Owls Nursery is under threat from drastic proposals and we need your support!
Rowley Hall Primary School Governors plan to cut the service this nursery provides to local children and their parents, by integrating it into the school and removing the provision of care for 0-2 year olds from 1st January 2016.
They propose to:
Remove all year round care by opening the nursery during school hours and term time only.
Remove provision of care for 0 -2 year olds.
Parents/Carers will be able to purchase care for 'wrap around clubs' (Breakfast/lunchtime/afterschool care – although no times have yet been advised)
Make changes to staffing in the nursery
With the inevitable loss of staff resulting from these proposed changes, this wonderful nursery will suffer and no longer be able to provide the standard of care and support to parents and the community it now does.
Once the drastic proposals are put in place the damage will be irreversible!
Planned Events
We will be outside the nursery tomorrow, Friday 2nd October 2015 between 8:00am & 9:15am, Come and find out more about the campaign and sign the petition.
We will be holding a rally outside the school on Monday 5th October 2015 from 4:30pm onwards – Before the public consultation meeting.
We want the Council/Councillors and local MP's to hear us loud and clear. Listen to residents, the public and the nursery to prevent these drastic changes that will result in irreparable damage to a fantastic community nursery.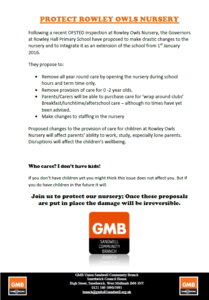 Posted: 30th September 2015