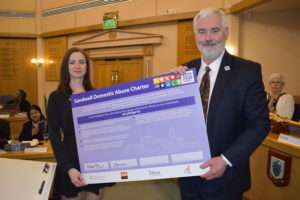 Sandwell Council yesterday (9th April 2019) became the first employer to sign GMB's Work to Stop Domestic Abuse workplace charter.
GMB's charter calls on employers to support employees experiencing domestic abuse. To ensure that they will not be disadvantaged at work, will be supported with access to services and information and that all employers train staff to be able to appropriately and confidently support staff, Building on the policy and guidance negotiated with GMB, we are pleased that Sandwell Council have today formally committed to assisting staff who are experiencing Domestic Abuse with a wide range of support services.
Sarah James, GMB Branch Equality Officer and National Women's Lead said following the signing:
'We are pleased that Sandwell Council, one of the boroughs largest employers recognise that Domestic Abuse is a workplace issue and are actively supporting staff who may be affected. By signing the GMB Work to stop DA charter, the employer is committing to make the workplace is a safe environment for those experiencing Domestic Abuse and ensuring support is available whenever it is needed'.
Sandwell Council Leader Cllr Steve Trow also said:
This is an important charter which confirms the council's support and commitment to staff, residents and businesses in Sandwell on issues that matter to them"
More information on the charter and accompanying policy can be found on our GMB Website.
If you are experiencing Domestic Abuse and need support, please contact us. All information will be handled sensitively.
Remember if you are in immediate danger call 999
Posted: 10th April 2019