Serco Sandwell strike ends in 'stunning' victory for workers and public.
A long running dispute around health & safety, bullying in the workplace & terms and conditions has been won by GMB members working for Serco in Sandwell.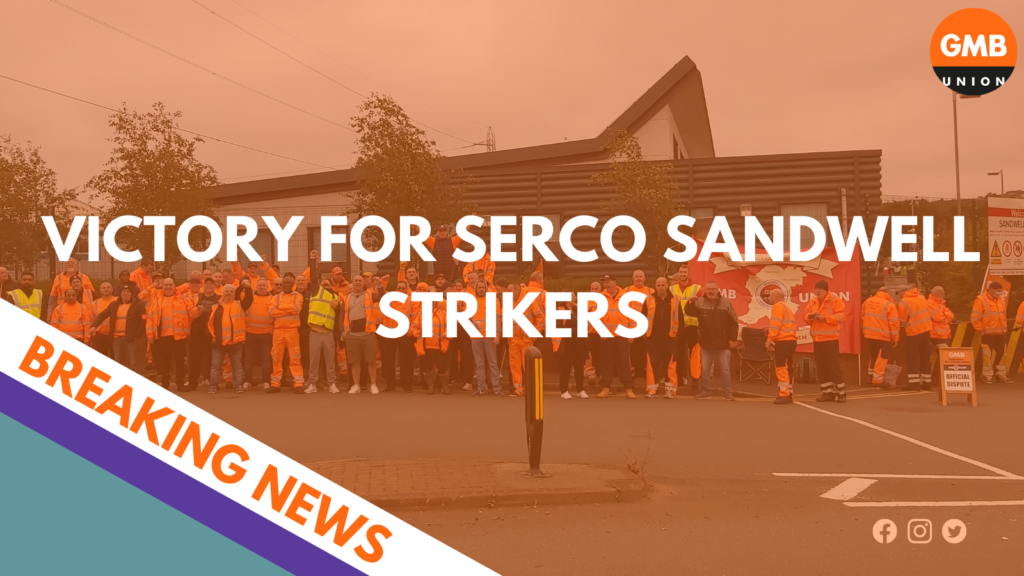 Earlier this year GMB members voted overwhelmingly for Industrial Action after Serco bosses refused to engage in meaningful talks with GMB over concerns around Health & Safety, bullying and terms & conditions . Over 130 members of GMB Union took part in a series of Industrial action but after negotiations resumed with GMB, a ballot on proposals was put forward to GMB members.
More than 90 per cent of workers voted to accept the firm's offer to make the Shidas Lane site safe.
The deal also included a pay rise and moving many agency workers onto permanent contracts.
Serco has assured workers bullying and harassment will not be tolerated in any form and will be dealt with in a timely manner.
Announcing the result, Justine Jones, GMB Regional Organiser said:
"This is a stunning victory for the public and for our members.

"We've won the fight to keep people safe and secured new permanent jobs just in time for Christmas – all whilst avoiding disruption in the festive period.

"Thanks to the people of Sandwell for their hearty support and to the workers who stood firm for each other"
This victory has proven again that workers do have the power to fight against unfair treatment in the workplace and we are very proud of GMB members who took part in this action.
Striking is never an easy decision but they can return to work knowing that by standing strong and standing together Serco has had to take notice.
Posted: 1st December 2021