Jo Cox MP, who was murdered in her constituency of Batley and Spen on 16 June 2016, was an active GMB member.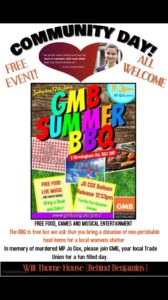 As the anniversary of her death approaches, her husband Brendan Cox is organising the Great Get Together weekend of 16 to 18 June 2017.
The Jo Cox Foundation are organising the biggest neighbourhood celebrations since the Jubilee street parties to mark the anniversary of Jo's death.
They are inviting people to get together with their neighbours to share food and celebrate all that we hold in common – with street parties, barbecues, picnics or bake offs.
GMB is proudly backing the Great Get Together weekend, with members set to hold events up and down the country.
Our region is hosting a free family fun day on Saturday 17th June 2017 from 11am – 3pm at Will Thorne House, 2 Birmingham Road, Halesowen B63 3HP.
For more information please contact Sarah James, branch equality officer on 0121 569 5991 or 07807950451.
Posted: 14th June 2017