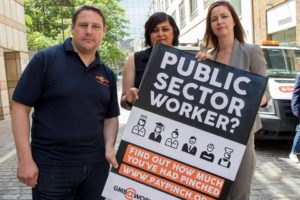 Darren James, Branch Secretary and Sarah James, Branch Equality Officer attended GMB National Conference yesterday (Tue 13th June 2017) on behalf of GMB Birmingham & West Midlands region.
The conference was called by Public Services National Secretary Rehana Azam, to collate responses from the recent pay pinch consultation held with members working in local Government. The information received will be used when discussing the 2018 pay claim.
An update is expected this week and information will be shared with members via our website, social media pages and in your workplaces.
In the meantime please visit GMB's dedicated website to see how much the Government have 'pinched' from your pay since 2010.
Posted: 14th June 2017