This weekend we are holding our 3rd annual Great get together in memory of Jo Cox,MP who whose life was tragically cut short in June 2016. GMB will be getting together at our office in Halesowen to celebrate kindness, respect and all we have in common. The event taking place on Saturday 22nd June will also mark Jo's 45th birthday.
On the day their will be a free BBQ, soft drinks, fun and games for the kids, free photo booth, free face painting and free henna.
22nd June also is a day for Communities commemorating the Windrush generation and their descendants, GMB will also be remembering the Windrush at the Great get together with a fantastic speaker and a steel drum band.
We are also collecting none perishable food for the local community if you could kindly bring a donation.
We would love to see you there 11am until 4pm.
Please be aware there is no parking at the office this includes no spaces for disabled members due to the car park being used for the event.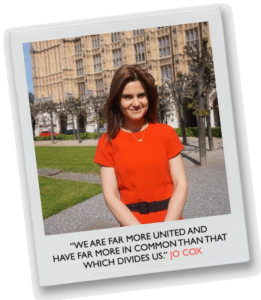 Posted: 21st June 2019