Join us on Thursday 7th February between 10am & 2pm as we make a conversation about Mental Health. #TimeToTalk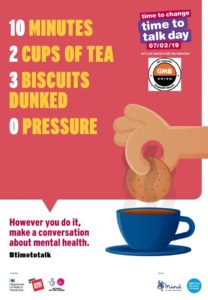 We will be joined by sister Trade Unions from across Sandwell at:
Sandwell Council House, Oldbury (Ground Floor Break Area)
Providence Place, West Bromwich (Ground Floor Break Area)
Mental health problems affect one in four of us, yet people are still afraid to talk openly. Time to Talk Day encourages everyone to talk about mental health.
This is only the start. There are lots of different ways to have a conversation about mental health, you don't have to be an expert. However, if you do need support don't wait until 7th February, give us a call today and we can signpost you in the right direction.
GMB have produced a booklet about Mental Health which can be downloaded from our website.
Posted: 29th January 2019