It will not have escaped anyone's attention that the weather is due to turn for the worse over the coming days.
The change leaves many members unsure of their rights on snow days. GMB have produced a quick guide to help members.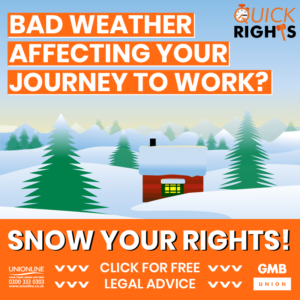 Generally speaking there is no legal obligation for an employer to pay you for any days off due to weather conditions. However, it is advisable to speak to your employer to see if any agreement can be made.
For example;
Could you make up the time at some other point?
Could you work from home?
Could you make it in to a different place of work?
If you believe that your employer is acting unlawfully please contact branch office for further advice.
Posted: 31st January 2019