From 8–14 February, the TUC will run a special week of action against the Trade Union Bill throughout England and Wales. It will showcase the amazing work unions do and tell the stories of ordinary members and reps. We want to get members involved in the campaign against the Trade Union Bill, tell positive union stories to the wider public and recruit new members to the union movement.
If you want to highlight the great work done by unions and reps where you work and live, please get in touch with Sarah James on 0121 569 5990 or branch@gmbs85sandwell.org.uk
GMB will be holding drop in sessions at workplaces throughout the week:
Monday 8th February 2016, Sandwell Council House Ground Floor break out room
11:30am – 2:00pm
Tuesday 9th February 2016, ILC Combined Room
2:30pm – 3:30pm
Wednesday 10th February 2016, Roway Lane canteen area
1:00pm – 2:00pm
Thursday 11th February 2016, Providence Place Ground Floor canteen area
1:00pm – 2:00pm
Friday 12th February 2016, Jack Judge House 1st floor break out room
1:00pm – 2:00pm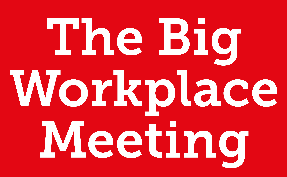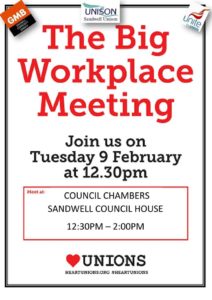 We invite you to join us on Tuesday 9th February 2016  for the BIG workplace meeting.
The event is being held with Unison and Unite Sandwell branches and will take place in the council chamber of Sandwell Council House, Oldbury.
TUC General Secretary Frances O'Grady and a special guest for a live broadcast to your branch meeting at 12.45pm. Frances will give an update on progress of the trade union bill and there will be an opportunity to ask questions after the broadcast.
Posted: 28th January 2016