#OnThisDay in 1855 Eleanor Marx, was born.
Who was Eleanor Marx & why is she so important to the GMB you may ask?
 A co-founder of the GMB at the forefront of the fight for the 8 hour working day who consistently fought for justice & equality throughout her life, she also set up the first women's branch of the Union. Today we celebrate her achievements and are proud to have a membership of which 50% are women.
A few key facts about the Mother of our Union
Eleanor Marx was born on the 16th of January 1855. She spent her whole life fighting to improve the living standards of working class people
was a leading light in the struggle for women's rights and was central in the founding of our union
In 1889 aged 34, Eleanor worked alongside Will Thorne to set up the Gas & General Workers union in Beckton East London – she's credited with teaching him to read & write Over 800 gas workers joined the union on the day of its launch in east London
She set up the first women's branch of the union and was unanimously elected to the executive in 1891 and began organising in the struggle of women workers in east London's rubber industry, a dispute involving thousands
At congress 2015, a resolution was passed. In honour of Eleanor, GMB Union designated the 16th of January, her birthday as 'Eleanor Marx Day' and an award was created in her name.
…….So now you know why Eleanor is important to the GMB, we hope you'll join us this evening to celebrate the birthday of the co-founder and mother of our Union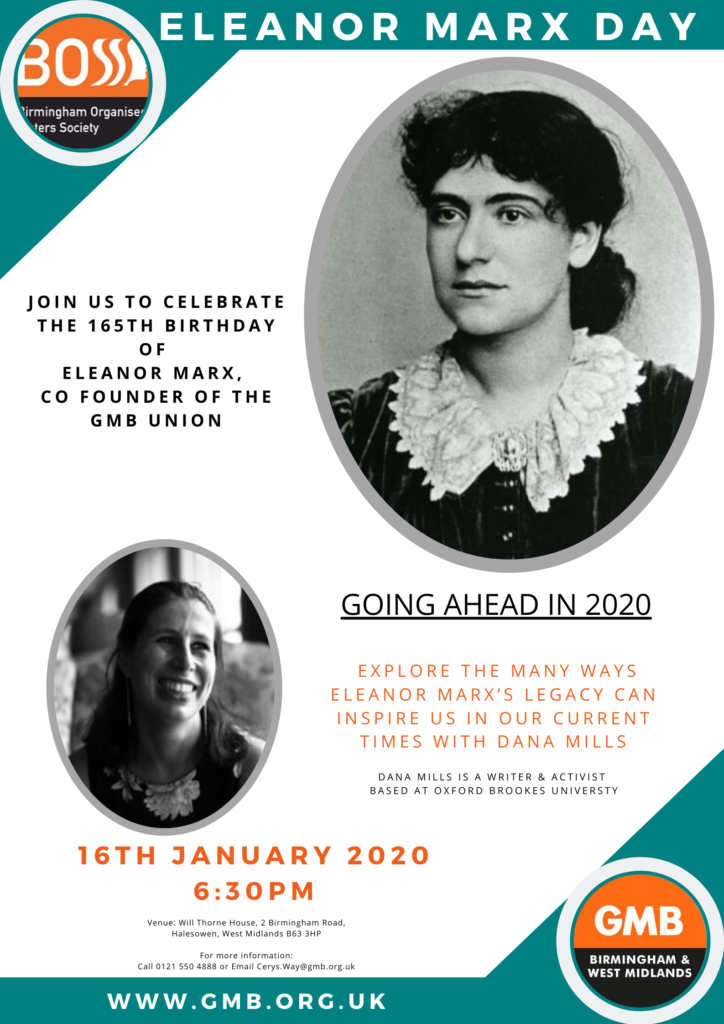 Posted: 16th January 2020