Talks regarding Health & Safety concerns with Serco broke down, leading Union members to proceed with Industrial Action.
Yesterday (8th January 2020) GMB officials along with sister Unions held further talks with Serco to resolve safety concerns after two rounds were removed from the waste collection services within Sandwell.
We believed these talks to be a step in the right direction to resolve the issue within Serco, however they stated that the final decision lay with the Local Authority.
GMB are deeply disappointed that late last night we were advised that Sandwell Council refused to reinstate the two rounds to allow further talks to continue.
Stuart Richards, GMB Senior Organiser said following the announcement "It is extremely disappointing that both Serco and Sandwell Council appear unwilling to take practical steps to resolve this dispute"
Meeting with members this morning, we advised them of the decision made by Sandwell Council and members have echoed our disappointment. They are angered as Serco are their employer not Sandwell, and they cannot understand why the Local Authority are making decisions and not listening to Health & Safety concerns.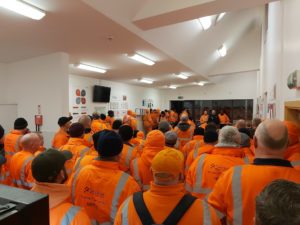 GMB have a clear mandate from our members to proceed with Industrial Action. Notice will be issued to the employer today and we will be meeting with our members again shortly to discuss dates and an action plan.
We do however, remain committed to negotiations to avoid this action. Neither GMB or our members working in Serco wish to inconvenience residents and hope that they understand our concerns.
Posted: 9th January 2020