Seven years into the public sector pay squeeze and our worst fears have been realised.
Real terms cuts to public sector pay aren't just failing our members.
They're failing everyone who relies on our vital public services
The UK's public services keep the country on the road. Public sector workers already do more than anyone could reasonably ask.
That's why GMB stands with them, and it is why we will not rest until we have secured the decent pay deals our members need and deserve. This isn't just in our members' best interests. It's in the best interests of the country as a whole.
GMB have launched #PayPinch campaign. You can find information and regular updates by visiting our dedicated branch webpage or the national dedicated pay pinch website.
Our officers will be visiting workplaces over the next few weeks to discuss the campaign in more detail. Look out for the special invitations in your workplace or contact us to book a workplace meeting.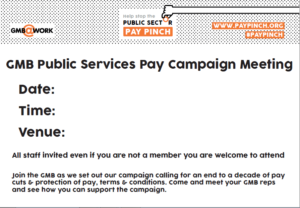 Posted: 27th April 2017