Public Sector Pay Pinch Campaign
Seven years into the public sector pay squeeze and our worst fears have been realised.
Real terms cuts to public sector pay aren't just failing our members.
They're failing everyone who relies on our vital public services.
The UK's public services keep the country on the road. Public sector workers already do more than anyone could reasonably ask.
That's why GMB stands with them, and it is why we will not rest until we have secured the decent pay deals our members need and deserve. This isn't just in our members' best interests. It's in the best interests of the country as a whole.
The average public sector worker has had £9,000 pinched from them since 2010. And the Government is set to take £4,000 more in the next 3 years. To see how you have been affected please visit our pay pinch calculator (Please note costs are based on full time posts – to clarify your loss on part time basis please contact branch office)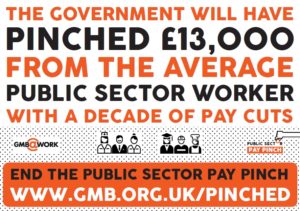 Enough is enough. That's why GMB is taking the message to the Government that they must change course. After seven years of pay cuts, only a real pay rise will do.
GMB Trade Union has launched a dedicated website for the campaign and we urge all members to share the information with friends and family and ask them to sign the petition .
This page will be updated regularly with information. However, if you have any questions or want to get involved in the campaign please contact us.
You can also keep up to date with the latest news about the campaign by searching the hashtag #paypinch on Social Media sites.
Update 21st September 2017
Our officers, activists and members have been busy over the past couple of months, spreading that word that the pay cap must end.
Our National Secretary Rehana Azam and general Secretary Tim Roache have both been speaking on national news channels and we continue to lobby councils
and gather signatures for the petition. The photos and videos can be found on GMB Union's dedicated Facebook page.
Only yesterday, the Institute for Fiscal Studies (IFS) released a report calling for an end to public sector pay.
Rehana Azam, said: "The IFS is just the latest independent body to call for the pay pinch to end.
"A decade of real-terms wage cuts is having a devastating impact on GMB members, and our research shows that the cap may be costing more in agency and temporary worker fees than it saves.
"It's time for ministers to pull their heads out of the sand and give all public sector workers a proper pay rise."
UPDATE 3rd July 2017:
#PayPinch campaign is working but we need your help – Read our latest update
UPDATE 14th June 2017:

Following the GMB NJC Pay Consultation the GMB NJC Reps met on Tuesday 13th June 17. A detailed discussion took place with extensive report back on the regional pay consultations. The general consensus was to keep the NJC pay claim succinct for 2018/19.
Please note at the Conference the following GMB NJC Local Government Pay Claim was agreed. Headlines of the claim are as follows:
5% Increase on all NJC Pay Points
The deletion of NJC pay points SCP 6-9 to reach the Resolution  Foundation Living Wage of £8.45 (UK) and £9.75 (London)
All NJC Unions have agreed this pay claim and the NJC Pay claim has been presented to the Local Government Employers on Wednesday 14th June, 2017.
Details of the claim are available now along with an update from our National Secretary, Rehana Azam.