GMB are very proud to announce following discussions with Sandwell Council and our sister Trade Unions, a new campaign is being launched today (International Women's Day) to tackle period poverty and promote dignity for women at work.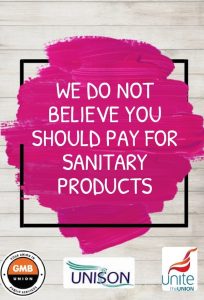 Sarah James, branch Equality Officer said "For many women, even those in work period poverty is a real issue, add to this gynaecological conditions such as endometriosis or irregular cycles and many women are suffering in silence, often embarrassed by heavy bleeding or taking time off work because they need to be near a toilet. As part of GMB Birmingham & West Midlands regional 'bleeding insane' campaign we are pleased that Sandwell Council are taking the issue seriously"
This is just the start of a series of changes that we believe need to be made in the workplace and we hope to negotiate with the council to support our women members, including policies around menopause and gender specific conditions. Women are working longer and as the world of work changes so does our needs at work.
May we also take this opportunity to wish you all a very happy International Women's Day and send solidarity greetings to all attending the TUC Women's Conference in London.
Posted: 8th March 2019